Modern view of Rovenna above Lake Como
THE ORTELLIS OF READING


DEFENDENTE MICHELE ORTELLI 1811-1884 must have arrived in England in around 1833, and he, too, had been born in Rovenna. The first record of him in Reading is dated 1836, but he might well have been working for someone else for a short while. From 1836 until early 1838 he was in partnership with two other well-known Italian barometer makers/retailers: Battista Bianchi and Paul Cetti, but Cetti died and then the two surviving partners dissolved the company. Also in Reading was Fedele Primavesi who was married to a sister of Antonio Ortelli.
In December 2013 I was told about a very surprising barometer, signed J Ortelli, Reading, and others have turned up since then It is illustrated below, and probably should date from the late 1830s. Given that I have found no records of the pedlar Joseph Ortelli apart from the baptism of his son in 1814 at Hay, is it reasonable to credit him with this solitary 1830s barometer? It certainly can't have been made by Giovanni Battista Ortelli, Antonio's son who was far too young. Goodison refers to a barometer by Joseph Ortelli, Reading, with scroll pediment, mirror above dial and made in rosewood. In May 2014 another scroll pediment barometer came up for auction, at David Lays in Cornwall. This was signed Josh Ortelle Reading and the scroll pediment is more upstanding than that of the other J Ortelli, Reading, specimen. Joseph = Giuseppe, and Defendente had an older brother of that name, born 1796.This Guiseppe was married to Antonia Gatti, so I can't link him to the itinterant barometer seller from Hay, though he could be a candidate for the pedlar in Scotland - he would be a little older than the age ascribed to that anonymous Ortelli, but guessing ages isn't a science.
Defendente, meanwhile, moved to Oxford, to work with Antonio.
READING BAROMETERS

So far I have only found two, but they don't seem compatible with the dates of the Ortelli involvement with Reading. Both are more 1840s than 1830s

Reading1:
Ortelli Reading circa 1840

courtesy of Gorringes Auctions
A very atypical Ortelli barometer. The four-dial, 41-inch case is rosewood, with mother of pearl inlay, and terminates in a rectangular bottom. It is signed P. Cetti and Ortelli, Reading. Sold by Gorringes, 4 Sept 2013. It looks later that the 1830s Ortelli/Cetti Reading period, and it's hard to believe it has anything to do with the Joseph Ortelli of Cross Street, Hatton Garden in the first and second decade of that century.
Reading 2
A scroll pediment, 5 glass barometer, mahogany. The style of the instrument really tends towards 1840s. The signature of J Ortelli is perplexing.
J Ortelli 5-glass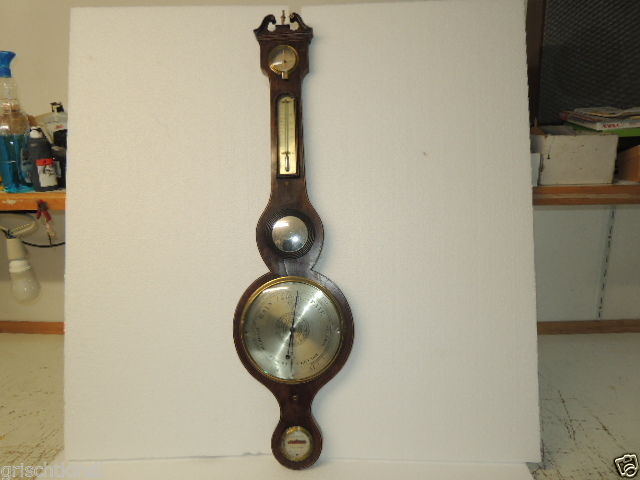 sold Dec 2013 Ebay.de
J Ortelli, Reading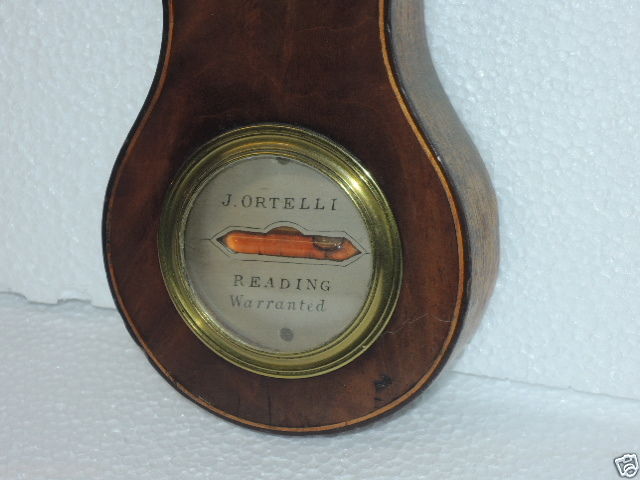 sold Ebay.de Dec2013
J Ortelli, Reading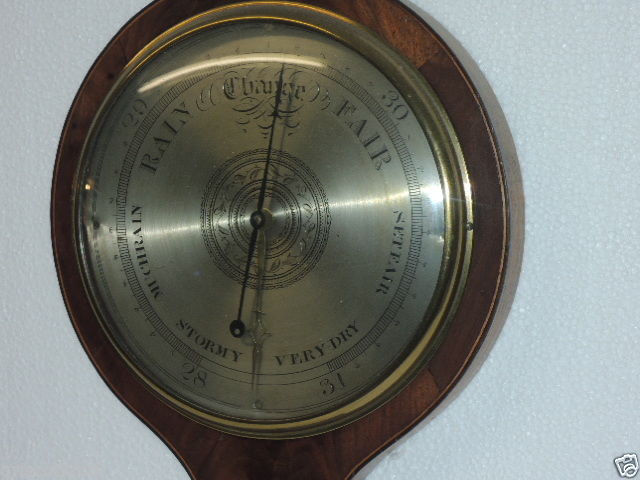 sold Ebay.de Dec2013
READING3
On July 23, 1997, Sotheby's at Billingshurst sold a 5-glass mahogany wheel barometer, circa 1840, with a 7.5 inch dial, signed on the spirit level plate 'J Ortelli Reading' . There is no reason to suppose this is a duplicate despite the similarity with Reading2
Reading 4, Josh Ortelle

Courtesy of David Lays Auctioneers

THE ORTELLIS OF OXFORD: Anthony and Defendente

For some time I was confused by the following statement which appeared in an auction catalogue: Andrea (Anglicised to Andrew) Ortelli was perhaps the most distinguished member of a large and widespread North Italian dynasty of carvers, gilders barometer makers. He was working at 114, High Street, Oxford (also as a clock and watch manufacturer) c. 1790-1846 with his brother Defendente Ortelli, also an optical instrument maker and jeweller. In 1846, they joined forces with Pietro (Peter) Primavesi, a London (Holborn) maker, and by 1849 had opened a shop at 49, Hatton Garden as Ortelli & Primavesi. The Ortellis, noted for their quality, were succeeded by their sons Peter and John, the business continuing in London until 1864.
I don't know the sources behind it but it doesn't make a lot of sense. It was repeated in a museum catalogue, too. Best to ignore it.

Antonio Ortelli worked in Oxford for the decade from 1838 until the lease on his High Street premises expired. Although he sold barometers, they were not a significant part of his trade, given that he was primarily a jeweller and watchmaker and, in addition, sold a whole range of other items. His wife ran the part of the business aimed at the ladies of Oxford. With him were several of his daughters, three of whom married in Oxford, Maria to Defendente, thus making the two men brothers in law. The two families were enumerated in 1841 at the same property; clearly they lived 'above the shop'.
In 1844, following the death of his wife, and with several young children to support, one a new born baby, Fedele Primavesi was taken into partnership by Antonio and Defendente.
Following the expiry of the lease, Defendente and his wife and Fedele Primavesi went to London where we will catch up with them later. First of all I will inflict some more barometers on you, and then turn my attention to another branch of the Ortellis.

OXFORD BAROMETERS

Barometers typical of the Oxford period, and signed A & D Ortelli, do exist, and all have to fall into the late 1830-1848 period. They are clear evidence of the standardisation that had taken place: almost all are 5-glass instruments with swan-neck pediments and none of the individuality of the earlier barometers. The thermometers of this period are much shorter so that the neck can accommodate the convex mirror. None of them - or none I have seen so far - has the square bottom that was also quite common in the 1840s and created an angular instrument.


OXFORD1 "I Ortelli" Oxford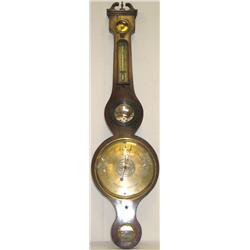 By courtesy of Semley's Auctioneers
OXFORD1 An 1840s 5-glass mahogany barometer: level, main dial, convex mirror, thermometer (with bolt) and hygrometer. With swan-neck pediment (no rosettes), brass finial and . Ebony stringing and brass finial. 38.35 ins high. Apparantly signed by "I Ortelli, Oxford" which may be a misreading
Sold by Semley's Auctioneers in 2004, lot 487. Image requested.
OXFORD2: A mahogany wheel barometer, 5-glass, with boxwood stringing and swan neck pediment. Main dial measured 20cms diameter; mercury thermometer, hygrometer, convex mirror, and spirit level the level signed A. Ortelli, Oxford. 96cm high Lot1213, auctioned by Mallams in May 2005 but no image is now on file.
OXFORD3: A & D Ortelli of Oxford five glass 19th Century mahogany wheel barometer, having silvered dials, alcohol temperature gauge and swan neck pediment top. 39in high. Sold in 2003 by Dickins Auctioneers. Image Requested
OXFORD4: A mahogany wheel barometer, signed Ortelli & Primavesi Oxford, with damaged swan neck pediment , hygrometer, thermomenter, 10-inch main dial and spirit level bearing the signature. 42 ins high. Sold by Christies, 24 September 1997. No image available
OXFORD5: A .Ortelli Oxford, 5-glass, barometer with starburst engraved centre and swan neck pediment with finial. Sold 8 April 2004 (or possibly 04 August 2002 as it was sold in the US by Susanins, and USA and British dates have the figures in a different order.
OXFORD6: H G Barometers of Ashbourne have an A Ortelli, Oxford, (photographed while unrestored), seen below. Typical 5-glass, circa 1840, with swan pediment and boxwood stringing, and with 8" main dial. Restored and sold 2013.

Oxford6: A Ortelli, Oxford

Courtesy of Hg-Barometers
OXFORD7: Another typical 1840s 5-glass barometer, signed A. Ortelli, Oxford. 8-inch dial, compass rose centre, swan neck pediment, 'butler's' mirror, hygrometer, mercury thermometer, spirit level. Mhogany case with stringing. Auctioned by Leslie Hindman Auctioneers October 23-24, 2005.
Ortelli 5 glass

Courtesy of Leslie Hindman Auctioneers, Chicago
OXFORD8: Mahogany wheel barometer with hydrometer, thermometer, steel dial and spirit level, signed A Ortelli, Oxford. The case has the break arch pediment, and is 38" high . Auctioned by Mallams 29 March, 2006
OXFORD9: A 19th Century mahogany wheel barometer with engraved sunburst steel dial, break arch pediment and spirit level, signed A Ortelli, Oxford, 43" high. Auctioned in 2009 by Mallams.

Oxford 10
Presumably this barometer dates to between 1844 and 1848, after Fedele Primavesi joined the Ortelli's business in Oxord. It is a standard 5-glass, and somehow it found its way across the Atlantic to America, perhaps as part of the possessions of a family of emigrants from England. Thanks to Robert J Riesberg Antiques of Minnesota.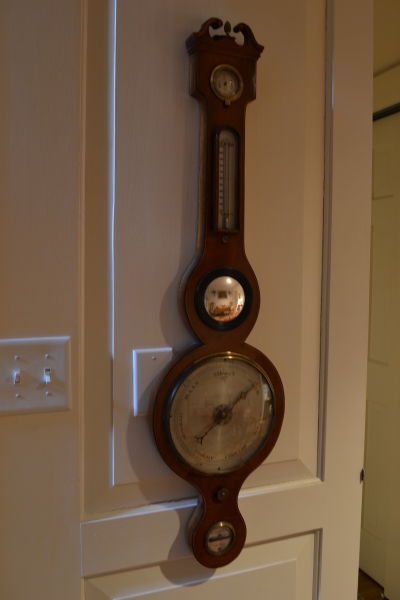 Oxford 11 Ortelli & Primavesi
Ortelli & Primavesi, Oxford

Courtesy of Tenants Auctioneers
The third Ortelli & Primavesi I have come across, and this is the only Oxford barometers with rope stringing, making it probably the most attractive of the barometers sold by the partners in Oxford. Because of the known dates, it is possible to date this one very precisely to the period 1844-1848. Auctioned by Tennants in July 2014.
An early Victorian silver-cased pocket watch, verge movement, signed - Ortelli, Oxford, on a watch stand was sold by Gildings 1/3/11, Lot 264.
A mahogany longcase clock with arched enamel 35cm dial, 8 day movement with subsidiary seconds & calendar dials, by A. Ortelli of Oxford 'c.1790' was sold in Thornleigh, Australia, by Bargain Hunt Auctions, on July 18th 2010. It had a case with flame mahogany panels & fluted quarter columns, and measured approx 225cm,
The Ashmolean Museum in Oxford has a watch (minus case) signed A Ortelli, Oxford. The caption to the exhibit contains various errors re the Ortellis of Oxford. The curator of the collection and the forner curator of horology at the British Museum concur with my research, but somehow the webmaster's team have only partially updated the entry. But never mind. The curator has very kindly let me use the image on the website free of charge.
Ortelli of Oxford watch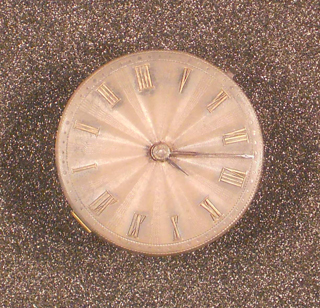 http://www.ashmolean.org/ash/objects/makedetail.php?pmu=523&mu=525&gty=asea&sec=&dtn=15&sfn=Accessio
Click here to go to the Ashmolean Museum catalogue entry for the watch
THE LATER ORTELLIS IN LONDON: Peter (2), Defendente and John



PETER ORTELLI (II) circa 1794-1886

At the same time as Peter Ortelli (I) died Peter Ortelli (II) was established in London as a looking glass manufacturer. From later census evidence he was born in Como in between 1794 and 1796 - the dates are calulated working backwards from the age stated at the time of the census - and exactly when he arrived in England is not known. If he was sent for in order to learn the business he could have been quite young, so an arrival even before, say, 1810 is far from impossible. Precisely how he fits into the family tree still eludes me. But, based on the dates and the Rovenna records, he could be an elder brother of Defendente. So far there is no death record in Italy for this Pietro Gaspare, which, however, does not prove he left the country permanently. Evidence is circumstantial, but both men became looking glass manufacturers, Peter in Hackney and Defendente in Hatton Garden, Peter was a looking glass manufacturer in Holborn until he retired and moved to Hackney.. Defendente became a looking glass manufacturer in Holborn until his return to Italy (see later).
The first record of him comes in the parish register of St Andrew Holborn on 2 April 1826 when he married Caroline Elizabeth Grego, signing the book with his Italian name of Pietro. They had a daughter, Caroline who was born circa 1826 as her age is later recorded as 15 in the 1841 census. On 14 October 1827 he must have returned to the church for his wife's burial. She was only 21 at the time of her death. The burial register gives her address as Leather Lane.


Caroline was almost certainly the daughter of one of Peter Ortelli's Italian compatriots, Antonio Grego, born 'Foreign', but declared in later Census records to be from Como, in about 1775. The evidence of the London Tax records is that Grego was renting in Leather Lane in 1798, but as with the case of the 'Early Ortellis' there is a gap of, in this case, 14 years until 1812 when the name reappears, again in Leather Lane.The obvious parents of Caroline were Anthony and his wife Elizabeth but no trace of her exists in the church register of baptisms for the period. . In July 1810 their son Anthony was born (later referred to as Anthony Lewis Grego), and a daughter, Martha, was born in 1812. Elizabeth, however, was buried on New Year's Day 1815, aged 44. I suspect that Anthony remarried and can be identified with the Anthony who lived, circa 1775 - December 1837.

(There is also an Antonio Grego, a looking glass maker born 'foreign' 1796 who, in the 1841 census was living in nearby Eyre Street Hill with his wife, Maria),

On 6 September 1832 Peter Ortelli was a witness at the Old Bailey in a case of theft - simple larceny when he prevented one William Grabbett [that really was his name] from stealing a picture frame, value seven shillings (35p) from Anthony Grego. In giving his evidence, Peter provided very useful information about himself, in that he was in the service of Antonio Grego of Leather Lane.
Three years later, in 1829, Peter married for the second time, to Harriet Jones who was about 26. One of the two witnesses signed his name as Giovanni Antonio Stringha, a name I can't pick up in the records. The marriage produced numerous children, and the baptismal records not only attest to the family's presence in Leather Lane but in some cases to the premises number, which changed several times:

In 1841 Ortelli was listed as a looking glass manufacturer in his own right, in Leather Lane. The 1851 Post Office Commercial and Professional Directory for London, 1851, confirms this address and occupation - and also gives another address and description: looking glass, barometer, thermometer & flower manufacturer, 49 Hatton Garden.

This latter address may give him a direct link to Defendente and John Ortelli, and their families, but I am just a little sceptical.

By the 1840s there had been a large influx of unskilled Italian immigrants into, primarily, London. Nevertheless, streets such as Leather Lane were still the preserve of the tradesman and shopkeeper. The 1841 Post Office Directory records the following at each numbered property:
1. Vincent Merchetti, Spanish figure maker
2 Thomas Bodger, builder
3 Peter Ortelli, looking glass maker
4 James Keyworth, cutler
5 Joseph Sesti, figure maker
6 James Pite, ivory turner


In the1861 Census Peter was one of 15 people, including those of his own family, of various ages and professions, living at 15 Leather Lane. His trade was given as looking glass and picture frame maker, and he had obtained his Naturalisation papers, making him a British subject. though I cannot track them down at the Archives.
His daughters were also in employment: Caroline, dress and mantle maker; Christina, Looking glass maker's clerk; Sarah, domestic cook; Rosina, machinist; Eliza, Hosiery shopwoman' Marian, milliner and dressmaker.

By the next Census: the family had moved to 34 Glaskin Road in the St John of Jerusalem area of Hackney, East London. The 1876 Register of Electors then records him as having moved to nearby 30 Frampton Park Villas, which, like the house in Glaskin Road, had been built in the 1850s. These two streets were where the larger houses were found. Then by 1879 he had moved the even shorter distance to No. 60 in the same street.
Peter Ortelli died in 1885 at the age of 92: not bad for a man who had spent his life with mercury. He doesn't seem to have left a probate record, which is a great pity. It is interesting that he and Antonio Ortelli produced many daughters and only one son each. Peter's son, however, died very young, so the family name did not continue through his direct line,



LON22 A mid-Victorian tulip top signed P. Ortelli London - and according to Wellers, the auction house that sold it in 2007, it is an aneroid. It certainly does not look like one in the small image on Invaluable.com, but if it were it would be the only Ortelli aneroid I've come across. The signature must be that of Peter II. Unfortunately Weller's no longer have the image. It looks like a smaller version of my Casartelli, as seen on the page Barometers and Italians, but with a tulip/onion top. Whatever it is, it is without doubt the youngest Ortelli-signed instrument by more than 20 years.

JOHN AND DEFENDENTE ORTELLI AT 48-49 HATTON GARDEN

After leaving Oxford, Defendente moved to Hatton Garden, Holborn, with Maria and continued in the same line of business as he had pursued with Antonio in Oxford, but the partnership with Fedele Primavese was short-lived. Fedele fell upon harder times but recovered to make a fortune. Some fifty years later there would be a liason with the Ortellis of a very different kind...

The 1851 Census confirms the Hatton Garden address. In it, Defendente is now described as a looking glass manufacturer, and with his 20-year-old brother in law, John, son of Antonio,as the resident manager. John - even in Italy he was called by the anglicised version of his real Christian name, Giovanni Battista - had received some of his education in England, and his fluency in English did him no harm in the years still to come. The Small Edition of the Post Office Directory London Directory contains an entry for Peter Ortelli as a Looking Glass maker at 3 Leather Lane, with Defendente Ortelli & Co at 49 Hatton garden as a maker of barometers, looking glasses and thermometers. Defendente and John/Giovanni Battista were granted naturalisation as British citizens in 1853.

Edwin Banfield devotes the sixth and final chapter of The Italian Influence on English Barometers from 1760 to the business founded in 1850 by Enrico Negretti and Joseph Zambra, known as Negretti & Zambra. According to the cash book from August 1853-October 1855, the list of London-Italian and English clients includes all the familiar names, from Tagliabue to Pastorelli and Ronketti to Ortelli. If this is the case, then the Ortellis were still involved a little involved with barometers, though the evidence in terms of signed instruments is extremely sparse.
In 1860 Defendente ended the partnership and went home to Italy, leaving his nephew, John, to build up a formidable business empire in London and become a great philanthopist until his death in 1898. He carried on the looking glass business, but he is also described as a merchant and had fingers in several pies, from furniture to banking. His great work, centred on the poor, the sick, the trafficked and the uneducated of the growing Italian Colony in London, was continued by his wife, Angiola (Primavesi), until her death in 1912. The couple had no children of their own but adopted a young girl, always known as Minnie, who married one of her father's buiness friends and then had an affair with the grandson of Fedele Primavesi, eventually running off to Paris with him.
I have seen a catalogue of bizarre barometers by John Ortelli, but I gave doubts he did more than put his name to them, and they would have been a minute part of his business.

In three generations, the Ortellis had done amazingly well for themselves in London, and elsewhere - they had significant interests in Argentina. Today, their names live on in the numerous barometers that they signed, but their story is entirely bound up with that of the late 18th Century immigrant barometer sellers who established the Italian community in Britain that we know and take for granted today.


Click for further image information

CONCLUSION

So far, the full links between the various early Ortellis in England have not been established but the strings are slowly tightening.
D Ortelli - Probably Domenico, father of Antonio of Buckingham and Oxford.
N Ortelli - no idea, but contemporary with D. There is a Domenico Nicola...
P. Ortelli: almost certainly Peter (1) who married Elizabeth Tompkins. Unlikely to be Paolo, father of Defendente, on age grounds. Paolo would probably have been too old.
Charles Ortelli - no idea. Possibly itinerant
Francis Ortelli - no idea - again, possibly itinerant
Joseph Ortelli - London Merchant, probably went home to Italy during the 1810s. Probably from the generation of Paolo Ortelli and Domenico Ortelli.


ANTHONY MATTHEW ORTELLI OF GODALMING

In the 1841 census there is a record of another Ortelli family: Anthony born 'abroad' in around 1796, his English wife Martha and two year old son William. This fits, because Anthony had married Martha Hyde at St James's Westminster in 1836, and the 1839 Pigot's Directory for Surrey records that Anthony Matthew Ortelli was a watch and clock maker trading from High Street Godalming, the same address and profession as are given in the 1841 census. Little William died in early 1851.
In the 1851 census the details change in so far as Anthony Ortelle is recorded as being 50, so born around 1801, and from Switzerland. This is not surprising, as the border between Lombardy and Switzerland comes down towards Como, and Lake Lugano is shared between Italy and Switzerland. The couple now have a 9 year old son, Joseph, born in Godalming, and the parish records give his baptism date as September 15, 1841 . Godalming civil records, by the way, come under Guildford. The 1861 census is puzzling, claiming that Anthony was born in Buckingham, Bucks. His wife, Martha, was born in Farnham, Surrey. Just when I was starting to get excited about this Buckingham connection, however unlikely it would have been at that date, I was brought down to earth by the 1871 census which now gave his place of birth as Warrington, Lancs!!!!! I think Switzerland is much more plausible. But at least he can't be confused with the other Antonio. On the other hand, the reference in the census to Buckingham is a little concerning. Information can only have come via the family, and three birthplaces in three censuses is confusing.
It is, however, possible that that he was Defendente's brother. His date of birth fits. But that is not proof.


One litttle snippet of his life comes in the Sussex Advertiser, 15 July, 1851. Anthony of Godalming belonged to the local branch of the Odd Fellows, a national friendly society whose members raised money to support the poor. The newspaper carried a report of their Festival, in which members had mustered at their Lodge - the Odd Fellows' Hall at the Red Lion Inn. From there they had marched in procession behind a band to the church for a service. For the aftenoon, there was a programme of 'Rural Sports' at Godbold's Park, and then they went back to their hall where 120 members sat down to dinner. A large number of toasts were druk, and, in the words of the newspaper: "The remaining part of the evening was spent in harmony, and the company departed at a late hour, much pleased with the day's proceedings".
And I think we can all read between the lines!
It's hard to say what connection if any there was between this Anthony and the other Ortellis, but it looks as if this Ortelli settled into his local community and worked steadily. He died in early 1873, four years before Martha,
Go to: Barometer buying and restoring tips
Go back to: The Slightly less Elusive Ortellis of London etc
Go back to: The Elusive Ortellis of Macclesfield
Go back to: Barometers - history, working, styles
Go back to: From Lake Como to London & beyond
Go back to: Antique Barometers - Introduction
google-site-verification: google13e98faae6513666.html